The past few months really have gone pretty fast… and now I can't believe that in only 11 days, I'll be headed to North Carolina to hang out with my best friends :).  Wow!!  I'm sure Coley's kinda freaking out just a little! LOL
Last week was 5 days without Bart. 

  Believe me when I say, by the time he got home on Thursday night, I was SO happy to see him.  I really didn't think it was gonna be a big deal at all, but it didn't take long (like maybe 4-5 hours!) before I missed him.  My entire funk went out of whack… didn't work out, didn't make meals for myself, hardly slept at all.  Sheesh!  That might sound over dramatic :p I'm not saying I sat around and wallowed in loneliness, starving and alienating myself LOL but it's hard to actually prepare meals just for yourself, so eating dinner at Harmony's house, going out, etc. and I filled up the week with plans so I didn't HAVE to sit home alone.   So, that messed up my workout schedule… and the sleep… well I just don't think I can sleep very well with Bart in another state.  LOL  Had a massage on Monday, which was SUPER awesome, but on Tuesday morning I felt like I'd been beat up by an angry china man.  Then I got my hair cut (short!) on Tuesday and was even a little daring and put some darkish/brightish red in it.  *Eek* and I totally love it!!!  Got a pedicure on Wednesday after work with Harmony (and Natalee came and hung out too :)) and then we went and got new shoes at the Mall, then to dinner at P.F. Changs (mmmm).  I told Harmony she could pick any color she wanted for my toes.  I was held to a promise, so I had no way to argue.  This is what she chose:
I have to make fun of her for it, but truthfully… I love them.  LOL  They make me happy.  *Happy feet*
I'm having major issues with my keyboard today, so I've had to restart twice.  It might be fixed now.  So far, no skipping letters or having to pound the space bar to get a space.  Quite frustrating, considering this keyboard is only a few months old.  I swear things just enjoy not working properly around me.
We got stuff accomplished this weekend.  At least I felt like it :).  Saturday we spent about $450.00 at Home Depot on a lawn mower, weed whacker, grass seed/weed killer, etc. (probably some other stuff, but I stopped paying attention after about half an hour 'cause Home Depot depresses me).  Thank god we had a $200.00 gift card from Lisa from Christmas and then apparently when we got to the checkout, Bart and Lisa had a mild boxing match and Lisa ended up swiping her card before Bart could tackle her to the ground.  Ok, there wasn't really any tackling, but might as well have been.  Sometimes seeing those two fighting over a check at a restaurant, etc. is just amusing and I can't help but be entertained.  Zack does it too.  All three of them.  Anyway… I'm fairly positive Bart plans on just forwarding that money directly back to her (perks of having the same bank, eh?) but either way, it was really cool.  As much as I hate accepting money from people, sometimes I get to the point where I feel like we'll never have QUITE enough money to accomplish all the things we want to (fence, patio, new grass, etc.) But, it felt really good to mow the lawn (front and back) and I learned, quite humorously, how to use a weed whacker.  That's right… I've really never used one.  If I have, it was when I was little.  I don't recall ever owning one before, but then again, if we did have one growing up, I probably just didn't know about it because my parents tend to keep dangerous things away from me.  I'm likely to whack somebody's toe off or something.  Probably my own.  Bart had to scold me to put shoes on before he'd let me use it.  Ugh.  Dumb shoes.  The weather was SOOO nice this entire weekend.  I even left the sliding door open almost all day both Saturday and Sunday.  Aaaaah, sunny.  Then Sunday, Lisa and I went back to Home Depot (I know, I threw a silent fit on Saturday saying I was never, ever, ever, ever going back there, but whatever) and we got a few plants.  I need some plants to make me happy :).  So I got some baby plants and hopefully I can help them grow instead of killing them right away.  We'll see.    See??
I already had the green and white pots from plants I had a long time ago (Lisa gave to me), but I think I might go buy the matching red ones since all three of these plants are in the livingroom.  I know I'm laughed at 'cause I want my accents to match, but so what?

  I think I need to get some outside plants to hand or something and I can use the white and green pots for that :).  They are cute.  They just don't match my livingroom!  :p
This weather is making me really want to get out and play.  Or work outside.  Either/or… anything but sitting inside.  I wanna go four wheeling or have a BBQ or something.  I'll just have to make the most of it after 5:00 and before the sun goes down!  Make up some projects to do outside. Maybe I'll pull weeds tonight.  Or just sit outside and read.  (AFTER my work out, that is!)  Sun will be my reward for finishing my workout. 

Do you ever have one of those days where you just feel uncomfortable in your own skin?  Today is one of those days… My hair refused to work this morning so I feel like I look like sloppy… then my makeup didn't really turn out the way it's supposed to (I have no idea why, when I apply it the same every time) and my clothes feel uncomfortable.   Hopefully I can make it through the day without it controlling my mood.  I tend to be grumpy and psychotically mean when I don't feel comfortable.  Hmmph.
I also wanted to add… and I posted this on Facebook yesterday, but… Ok, Sam seriously follows me everywhere.  People tend to assume I'm exaggerating, simply because I get annoyed by him sometimes, but I really am not exaggerating.  Yesterday, for example, I wanted to get in the shower, so I started the shower and was getting clothes together and stuff and within about 2 minutes, I went back to the bathroom and Sam was laying directly in front of the toilet, which is also directly in front of the bathtub/shower.  I asked him to move like 5 times and he just looked at me like I was retarded, so I just climbed over him and got in the shower.  Then I had to get OUT of the shower and literally couldn't without stepping on him (and didn't want to jump, because knowing me, I'd slip and fall on my face) so I FINALLY got him to move… and by move, I mean he lazily stood up, moved back about 3 feet and plopped back down and stayed there until I had gotten out, brushed my teeth, dried my hair, gotten dressed, etc. and then I had to climb over him to get out of the bathroom… then he followed me into the office and plopped under the desk on my feet.  *Sigh*.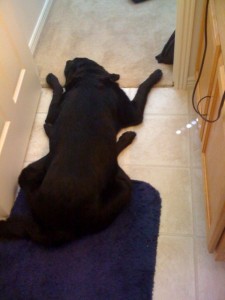 I know everyone thinks I'm mean because I complain about him…  Most common response is "But he LOOOOVES you".  I know he loves me, although sometimes I REALLY don't understand why.  It just proves that dogs really do love you no matter what.  And I don't hate him.  I get fairly upset when people say that I hate him.  I don't HATE any animal, unless you count grasshoppers as an animal (and if you do, you're psycho), but it's the same as a person doing the same thing.  You'd get annoyed if you were literally followed everywhere and not left alone even when you're peeing.  I can at least get him to stay out of the bathroom and allow me to close the door when I pee, but he still sits immediately outside of the door and sometimes whines until I come out.  (WHY?!)  So, don't say that I hate him and yes, I know I'm "mean", but can't a girl get some breathing room?!  What I really don't understand is that he is Bart's dog… and Bart babies him and loves him and spoils him and plays with him… so, why doesn't he follow the NICE guy around?!  Please explain.   (He is cute though, isn't he?)  I'd like to add that Sam is a VERY good dog, compared to a lot of dogs… and just in general.  He is a good dog.  So, it's not that he's BAD… he just has some annoying habits.  Then again, so do I!