The past week or so has just been REALLY busy at work with Quarterlies and everything… I've had major issues with one company in particular, trying to balance UTSUI.  It's a problem with our system preventing me from completing it, but it's still driving me insane that it's not done!
Yesterday was insane.  Of course it was "Busy Tuesday", so yeah… Busy!  I'm worried that I'm not going to get my Quarterly bonus, because I discovered yesterday that I still have one company (excluding that one I just talked about) that I haven't done.  How did I miss it?!?!  GRRR!  I'm trying not to stress about wondering whether I'll get my bonus or not.  I think I'm just stressing because money has been so terrible lately.  Either way, things always work out.  Bart always tells me "it'll work out.  It always does" and he's always right.  So, why is it that I still allow myself to feel overwhelmed?  Heh.
So, last week I went up to my parents house and watched the kids (Jairus, Kaitlyn, Eli, David and Isaac) and it was really fun.  The kids were all super good all evening and played with each other nicely and everyone had fun.  My dad recently redid the deck in the back and added a SLIDE that the kids just love.  They played on it for HOURS until I finally made them come in so they didn't freeze to death!  I got a LOT of good pictures and was way happy, but here are a few: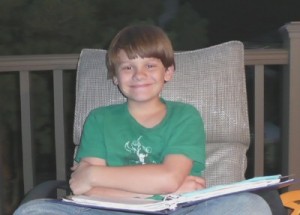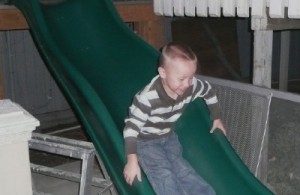 There were TONS more, but those are a few that I already had saved on the desktop.  haha.  Isaac didn't want to go down the slide, but kept sitting at the top like he was going to and then he'd change his mind and turn around.  It was cute.
I'm going to Heather and Christopher's tonight to play with the boys while they go to Home Depot or something… I really need to see the boys again!  Sometimes I can start to feel when it's been too long and then once I can play with them for a bit, I cheer up.
I've really been feeling like I need a vacation lately.  I feel stressed and overwhelmed about everything right now.  I can't even pin point each item of stress, it just feels like EVERYTHING.  I was really getting my hopes up to go to Seattle next month, but it's impossible at this point.  I'm hoping we can get caught back up and things will be ok financially so I can plan to go in maybe February.
I'm going to stay at Lena's November 6th thru the 10th while her and Ryan are on a cruise (going with Lena's company) and I'm actually looking forward to it.  I'm not necessarily looking forward to driving from Santaquin to American Fork those days, but just the time away from the every day norm might be nice, plus, getting to spend time with the kids.  I feel like I never see them and I really don't make it down there often enough.
Kaitlyn's birthday is next Thursday!  She'll be 6 years old.  Holy cow.  I always say it, but kids sure do grow fast :(.  I still have a hard time believing that Dustin will be 7 years old in January.  It's just surreal.  *Sigh*
Ok, enough yapping.  Back to work.