This past week Amelia started rolling. I can't quite say rolling over, because she can't get past her arm yet 😛 but she rolls from her back to her sides and then to her back again.  She's rolled over onto her belly once, but with a little assistance from me haha.  I'm really glad that Bart was here for it too.  I often think about how grateful I am to be able to stay home with her and witness these things and because of this, I also often think about how hard it must be for Bart to go to work every day when I'm sure he'd rather be with us.  I don't want him to miss all her "firsts", but so far he hasn't missed any.  Of course it's kind of hard to pin point an exact date when she started smiling, because it was a gradual thing, but he is so involved, I certainly don't feel like he misses anything.  He was here when she rolled onto her side and he seemed really happy knowing that it really was her first time doing that.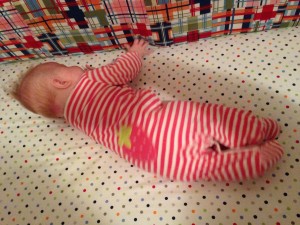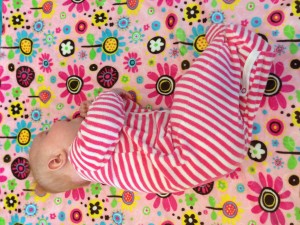 It's so amazing to watch a person grow.  It's even more amazing when it's your own child and you see everything, every single day, 24 hours a day (ok, maybe like 14 hours a day, since she has been sleeping about 10-11 hours straight at night now!) but really it's amazing.  I could go on and on about it, but I won't. lol
She still hasn't really laughed, although I'm always trying to get video of it.  She makes the initial sound like she's trying to laugh (so we certainly can tell when she IS "laughing") but hasn't actually made the full sound yet.  I gotta say though, it's certainly funny and heart warming when she tries.