Have you ever heard the song "Le Disko", by "Shiny Toy Guns"?  It makes me bounce in my car while I'm driving and makes the lady driving in the lane next to me laugh, so I promise, it's worth listening to if you haven't heard it.  I wouldn't, however, suggest watching the music video.  LOL
This weekend was really great.  I'm pretty much exhausted today, but I'm in a super good mood and really wish that I coulda had more of this weekend.  Friday night, Bart and I went on a date (teehee).  We went to dinner at Red Robin (yummmmmm) which was really good and a bit of a splurge, calorie wise, but I didn't care

and then went to see "Alice in Wonderland", which I LOOOOVED!  Yup, loved it.  I have heard probably 50-50 reviews with half HATING it and the other half loving it.  First of all, I think you've gotta be a certain percentage of weirdo to like it, which is why I loved it, but I also have to wonder if some of the people who hated it were expecting a remake of the Disney version of the little girl falling down a rabbit hole and that's that.  If you haven't seen this movie yet and that's what you're expecting… then you probably won't like it.  I would basically suggest going into this movie as if you've never even heard of Alice in Wonderland.  This isn't that movie.  This is completely different.  Oh, and I just love Johnny Depp. Not 'cause he's cute (but really he isn't bad looking), but he just is an AWESOME actor.  He literally BECOMES the character he's being paid to be.  I can't even think of an actor that is quite comparable to him.  I mean seriously… Gilbert Grape, Edward Scissorhands, Raoul Duke, Mort Rainey and of course Captain Jack Sparrow… these roles seriously aren't even that similar and those characters are just HIM.  Mad Hatter was right up his alley.  "Mad Hatter" now IS Johnny Depp.  He is just… amazing.  I don't know if anyone else is weird enough to even be in the same league.  lol …So, obviously I loved the movie.  I admit, slightly, that I was a bit disappointed in the Red Queen, but not even worth mentioning.  Awesomeness all around.  I'll buy it.
On Saturday, Jairus, Tabitha and I went to the Festival of Colors in Spanish Fork (/Salem… whichever city it's really in) at the Krishna temple.  Also – awesomeness.  I didn't even know about this until last year and I'm sad that I didn't know about it years ago.  Jairus says it's been going on for like 10 years, so I don't know why I'd never heard of it before.  Either way, I'm gonna make sure it's a yearly thing for me.  I loved it.  It was like "Woodstock" meets Hindu celebration.  The Krishna Temple is absolutely gorgeous and amazing, along with the vibe you got with the hundreds of people thrashing powdery rainbow colors in the air waving "Peace & Love" signs around, you couldn't help but be bubbly.  Dancing, crowd surfing, electric guitars, Hindu traditional songs and an old dude telling everyone how awesome God is and that he's not just "some old guy tellin' you to keep it down 'cause he's taking his afternoon nap".  LOL  It was just awesome.  The only thing I will say is that next year, we're absolutely going earlier.  No question.  It'll be worth the crowds and parking your car 1+ miles away to walk there.  As much fun as it was at 4:00pm, I'm betting being there at noon-1:00 was even better.  (Yes, we missed the explosion of colors and the enormous cloud

) still awesome.  Hanging out with Jairus and Tab was awesome too.  She really is a ton like me, it's almost amusing.  It's as if I'm watching myself 10 years ago.  HAHAHA  Adorable.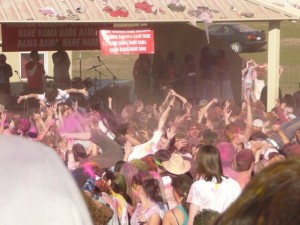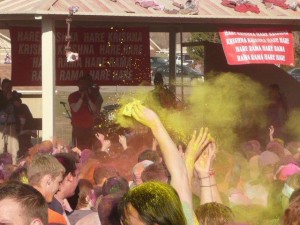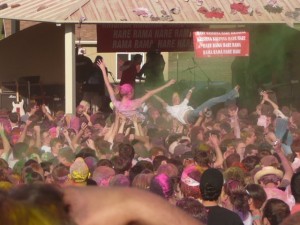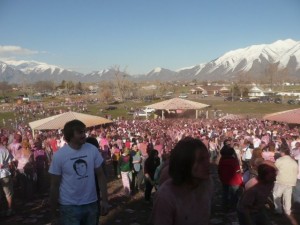 What made the weekend even better was that Saturday morning, I weighed myself (I'm weighing myself every Saturday to keep track of my progress) and I lost another 3 lbs. 

  That's 7 lbs lost between March 13th and now.  It makes me excited

  I would so love to be back to my pre-pregnancy weight, which realistically shouldn't be that hard, considering I was already kind of overweight when I got pregnant (yes, even at 15 years old).  Of course I remember feeling fat at that age, but I can look back at pictures of myself then and just DREAM of being that size again.  I'd be more that comfortable if I went back to that size.  LOL  Of course that's how it usually works, right?  Still… this time, I'm confident that I'm going to do it and not back down.  I have absolutely no reason or legitimate excuse to NOT accomplish my goal weight.  Unless I break my ribs again… or my other hand… or dislocate my back… which I don't plan on doing.  At least not this year.  Wahoo!
Bart is going to be in California April 12th thru 15th for a "MySQL" (aka: Geek) conference for work.  I'm excited for him to go, because he's looking forward to learning new things… and I'm excited for him to fly for his first time ever! (I know, almost 25 years old and has never been on a plane!) but I gotta admit I'm kinda disappointed I won't be with him on his first flight

*Sob*, but I think I'll get over it.  I'm trying to plan things to fill up my time though, because 4 days is a long time to be without him!  I'm trying to really remember the last time we spent that many days apart.  LOL  Actually, now that I say that… it was just a couple years ago, when Lena and Ryan went on their cruise, I stayed down in Santaquin with the kids for 5 days straight.  By the time I got home from that, I just wanted to squeeze him.  So, as pathetic as it might seem, I'm totally gonna miss him for the four days that he's gone.  I figure I'll get a massage on Monday, maybe a pedicure on Tuesday, get my hair cut on Wednesday and watch girly movies on Thursday.  LOL  He'll actually be leaving the afternoon/evening of the 11th and coming home the night of the 15th, so… almost 5 whole days if you look at it that way.  bah.  It'll be fun though.
We're going camping this weekend to break in Lisa's new spiffy-schmiffy trailer.  We always kinda poked fun at her for wanting a trailer so bad, because camping isn't "camping" unless you're sleeping in a tent… as far as I'm concerned.  BUT, I would not complain if I had a nice, warm, wind proof roof over my head when we're out in the middle of the desert in APRIL freezing our butts off.  Last year when we went camping in April, it was horrid.  Fun, but freezing, freeeeezing cold.  Coulda died.  So, doing that this year with a trailer to protect us from the elements, might be nice.  However… I still fully intend on sleeping in a tent unless it's Zero degrees out.  The trailer is a backup 😉 and a nice place to play poker.  Bart and I took Friday off, so we're leaving Thursday night and we're all heading out to the desert with four wheelers and buggy.  Crossing my fingers that I won't break any bones this time around. …Should be fun!
Another movie review (I thought of Lacey, since she's so in love with Edward Norton) – "The Illusionist".  I thought this was a really interesting movie and executed quite well.  I actually didn't really expect to like this movie a whole lot and I think Bart was kind of bored (he fell asleep) but I really liked it.  I think I might actually need to watch it again, just to be more aware and pay more attention during the first half hour or so.
I'd like to give an update on my book, but… well, there is none.  I'm hoping I'll have a better chance of getting more of it done this summer.  Yup, I'll be the girl who brings her laptop camping.  LOL  Or just sitting outside.  I tend to do more things in GENERAL when the weather is good.  So, maybe I'll be able to get a few chapters done this summer. 

  We shall see!
……I'm annoyed that my blog isn't updating my little widget thingy down there.  I realize you have no idea what I'm talking about… but, it's b'noxious.